No deposit bonus $150 on Coral Poker from YPC
Coral Poker (review) – one of the top representatives of the poker iPoker network, room which is always full of players, a lot of interesting tournaments and plenty of bonus offers. If you are not registered in the room, you should pay attention to the possibility to get a no deposit bonus of $150 of YourPokerCash sponsor. The bonus is issued as always by parts, the first $10 are enlisted right after approval of a request, $5 more after collecting 50 game points (SP) and other $135 are paid $5 for every 175 SP. This bonus is available to players from the following countries: Albania, Argentina, Austria, Belarus, Belgium, Bermudas, Croatia, Finland, Georgia, Germany, Gibraltar, Hungary, Iceland, island of Jersey, Liechtenstein, Lithuania, Luxembourg, Macedonia, Malta, Netherlands, Norway, Portugal, Romania, Russia, Saint Kitts and Nevis, Slovakia, Slovenia, Sweden, Great Britain. Players from Ukraine, unfortunately, can't apply for the bonus.
A received deposit bonus imposes some restrictions on the account, so the game is only available in cash at rates up to $0.02-0.04 for unlimited tables and up to $0.05-0.10 for Limit tables, tournaments are available with buy-in of no more than $1. This is to ensure that newcomers would not pour a bonus for a couple of hands, learn to play on the limit and gradually build up a bankroll. Restrictions are removed after a player makes $20 rake or makes the first deposit!
Room:
Coral Poker
Sponsor website:
YourPokerCash
Bonus amount:
$10 + $140 additional bonus
After game conditions:
175 game points for each $5 bonuses (500 points to output)
A couple tips for beginners: Do not take a no deposit bonus if you recently started playing and have little idea about the essence of poker. Work out for free freerolls and start getting no deposits when you start consistently take the top places. No deposit bonus is your opportunity to earn a starting bankroll, treat this feature with care, do not get multiple bonuses, pick one and try to make the best use of it!

For more information about getting a no deposit bonus at Coral Poker:
1. Register and verify account on YourPokerCash sponsor website
2. Press the tab "free bankroll", put a tick in the Coral Poker box and press the button "Send request"
3. The registration page will be opened, press the Download Now button then downloading of the client will begin (don't close the registration page)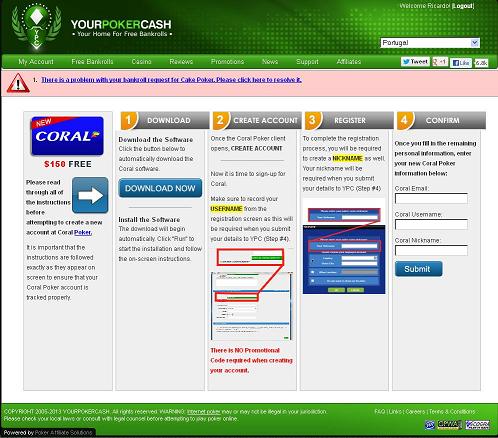 4. Download and install the client program. After installation launch the client and register. Registration process is standard. Everything is quite simple.
5. After registration authorize in the poker client and press Deposit button, in the opened window fill in registration data. Filling of this form confirms your desire to play for money!
6. Return to the logon page (point 3), fill in fields "E-mail on Coral Poker ", "User name on Coral Poker" and "A nickname on Coral Poker", respectively, the e-mail address, user name and a nickname specified on registration at Coral Poker and press the button "Send"
The request for receipt of a bonus is processed usually 3-5 working days. It is possible to see the status of a request in the My Account tab.