No deposit bonus 3€ from Unibet Poker
After starting of a new client, different poker missions became available to Unibet Poker players. The mission A new player will be available after the registration. This job does not require you to invest money and any serious efforts, but the reward will be two tournament ticket for 1€ and 2€.
Registration and completing of this mission takes only 5-10 minutes.
1. Go to Unibet Poker
2. Push the Registration button and fill in all the sign up fields
3. Install the poker client on your PC
4. After starting the poker client choose a necessary language in settings
5. At the top of the lobby will be the icon that displays the assignment process
6. To begin, look at all achievement possibilities, click the button: Profile – Achievements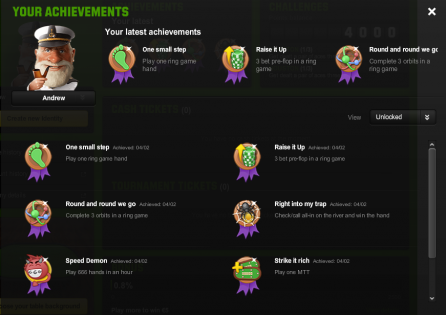 7. The following task will be to change your nickname. As the new Unibet was developed with a priority to amateur players all will have an opportunity to change the nickname even daily that makes impossible to professional players to monitor your progress by means of special programs. For change of a nickname press on "To create the new personality" and specify a new nickname
8. The last task will become to replace a table background. For this purpose press: "To replace a background"
9. Here mission A new player is comleted. The result will be 2 tournament tickets
10. The 1€ ticket will be valid for 6 days, and a ticket of €2 for a period of 28 days.
As you can see, the mission is very simple, and will serve as a starting point for the development of a new Unibet Poker room